Last Updated on 19/11/2019 by Ochoche David
Are you looking for the best affiliate programs to make money from? If so here're twenty high tickets affiliate marketing programs you can get started right and make cool money.
Affiliate marketing is a game-changer, it's one of the best ways to make money online or to monetize your blog.
It's my major way to make money from my blogs. If you aren't a new reader of this blog, you will definitely notice it.
The affiliate programs listed below are verified and they're legit.
What is affiliate marketing?
Affiliate marketing is the process of promoting other people's products and services and if you make sale you got a commission.
Click To Tweet
Or you recommend other people's products and services to your family and friends if eventually the buy, you got some percentage of the money you sold the goods.
That's what affiliate marketing is all about and how it works. If you have any other questions or concerns about affiliate marketing, do fee free to drop them below.
5 Affiliate marketing tools you need to be successful
Before we could get to the list of best affiliate marketing programs, let's take a look at some of the tools that will help you succeed in affiliate marketing.
1. A website/blog: No.1 tools you need to be successful in affiliate marketing is a website or blog(s). Affiliate marketers that own blogs, make the best out of affiliate marketing.
How to use a blog to make affiliate sales
I. Review the products or services you're promoting on your blog. The essence of this is that most people this day like to read a review of a product before making a purchase. If you stand out, you win.
ii. Place promotional material like banner on sidebar, inside your high-value content and don't forget to links back to the products or services.
If you don't have a website or blog yet, set up one here, it would only take a few minutes to set it up completely.
2. Thirsty affiliate: Thirsty affiliate is a link cloaking tool. Affiliate links always look ugly, so this tool will help you to make your ugly affiliate link professional and increase conversion rate.
If you're eager to earn 10k per month from affiliate marketing, then thirsty affiliate is definitely for you.
3. Constant contact: You can't make the best out of affiliate marketing without email marketing.
Constant Contact is the best email marketing software out there. It's easy to use, friendly and effective.
The best part is that it's cheaper than its competitors and you can use it free for sixty days. You can try it here for free and grow your blog traffics and make affiliate sales like a pro.
4. Social media pages: You know how powerful social media sites are these days. They're communities of billions of people, so there's a high chance of getting tons of affiliate sales there.
As an affiliate marketer, you can't do without social media pages.
5. Money Robot: Money robot is an SEO tool that would help you get a higher ranking on search engines like Google, Bing, etc.
And the higher ranking you have the more traffics you will get and guess what will happen next, more affiliate sales.
Recommendation: If you really want to succeed in affiliate marketing, you need money Robot, because it would fast forward your affiliate marketing journey.
So now you have a clear idea of affiliate marketing and how it works plus the right tools you need to be successful.
Let's begin the list…………………..
Top high affiliate programs that actually convert
1. Clickfunnel affiliate programs
Clickfunnel affiliate program is one of the best affiliate programs you should join.
They provide everything you need to be successful, such as banners, images, links, email template and mind-blowing support.
Clickfunnel pay their affiliate 40% commission on all of their products and services.
It's hasn't stopped there, when you first got your first 100 new clickfunnel actives users, they will get you, your dream car.
💷 Commission: 40% on all their products and services.
➡ Cookie duration: Sticky cookie
Pros
High commission and many other incentives
It a recurring income
Great support and high converting promotional materials
You will earn $1 per any free copy of the books you give away ( pay per lead).
Cons
It's a bit expensive for beginner prospects. So you need to target financial free prospects. Or business owners.
2. Leadpages affiliate program
By joining leadpages affiliate program, you will earn a 30% recurring commission on all your referrals for as long as your referrals remain leadpages customer.
Why you should promote leadpages?
To make it simple; leadpages affiliate programs convert well, and your audience of small business owners are hungry for the best marketing tools to grow their email lists, gain more customers, and make more revenue.
Your recommend grant them the tools they actually need to achieve all that. You can learn more about leadpages here.
Commission: You will earn a 30% recurring commission as long as your referral remains with them.
Cookie duration: 30 days
Pros
It's a recurring commission, you will earn over and over again from one single sale.
Full support and promotional materials
It's a converting product; meaning it's a product that sells itself, yours is to recommend.
Semrush is the most popular and effective SEO software on the go.
Majorities of Internet top guru used it to grow their business. So promoting semrush will be the best thing you will ever do.
Semrush affiliate program is managed by berush. By joining this program, you will earn up to 40% recurring commission for semrush subscription sales.
Commission: Earn up to 40% recurring commission
Cookie duration: 10 years
Pros
Receive commission payment twice a month through PayPal or wire transfer.
Few minutes approval
Longer cookie, more earning. 10 years of cookie life
They provide promotional materials in five languages (English, French, German, Spanish and Russian. So that language is no longer a barrier.
Cons
They have few commission payment method options.
If your audience is looking to lunch a business, migrate an existing store from another eCommerce platform or monetize hobbies with commerce, I encourage you to apply for the Shopify affiliate program.
You will earn an average of $58 for each user who signs up for a paid plan with your unique referral links, and $2,000 for each plus referral.
To maximize your earnings, they would be nurturing all your unsigned up referral to get them sign up from a free plan to paid plan.
Commission: Earn an average of $58 – $2,000 for plus plan.
Cookie duration: 30 days
Pros
Awesome support and dedicated affiliate manager
It's a high tickets affiliate program
Cons
All Shopify affiliate team carefully reviews all applications, that make it more complex for beginners to get approved.
Hubspot is all-in-one sales tool kits that small to medium businesses save time and money at every stage of the funnel while growing their business.
Hubspot really worthy recommend, it would definitely be of help to your audience.
Joining Hubspot affiliate program is a simple way to generate new revenue from your content while helping small business communities grow better.
Commission: Earn up to $1,000 for each new purchase you got, but depending on the product level;
Starter/basic: $250
Professional/cms: $500
Enterprise: $1,000
Cookie duration: 90 days
Pros
It's a high demand product, so you can get sales easily if you promote it to the right audience.
Cons
They have tracking limits, meaning if your audience is a non-English audience and they purchase from your link, no commission for you. It only meant for the English speaking audiences.
6. Wp engine affiliate program
Wp Engine is a superb web hosting company. Its performance is very high likewise to its customer's support.
Earn industry leading commission by recommending the best manage hosted on the world's only WordPress digital experience platform.
Commission: Start from $200
Cookie duration: 180 days
Pros
It has longer cookie time and high payout commission which means more money.
Cons
Wp engine affiliate program is managed by ShareASale which makes it difficult for beginners and sites with low traffics to get approval into the program.
Wp engine plan is expensive for small businesses that just get started, so you may not get much sales as you may desire.
7. Liquid web hosting affiliate programs
Liquid web hosting is also one of the most reliable web hosting on the go.
So their plans are high and they give a huge cute of the price to their affiliates.
Commission: Depends on the products you sold:
Manage WordPress $100 – $1,000
Manage woo-commerce $100 – $2,000
VPS hosting $100 – $350
Dedicated hosting $150 – 5,000
Cloud hosting $100 – $5,000
Cookie duration: 90 days
Pros
Dedicated affiliate manager
High payout commission (up to $5,000 per sales)
Quarterly newsletter and many more
Cons
Liquid web services are expensive for beginners which may limit your earnings.
8. Get response Affiliate program
Get response is one of the best email marketing software which has already made name for itself.
Promoting this product simply means you're adding value to your blog.
They have two affiliate program options:
Affiliate bounty program ($100 one time commission)
Affiliate recurring program (33% recurring monthly commission)
You will join the most one you preferred
Commission: Earn $100 one time and 33% recurring monthly commission
Cookie duration: 120 days
Pros
Incredible promotional materials
Incredible support
Cons
Few commission payout method options (only check or PayPal)
HostGator is one of the top ten web hosting companies in the world and at the same time cheap.
This means your referrals can start as low as $2.75 per month for shared hosting.
That makes it easy to earn a lot with this program.
Commission: Earn up to $125 per qualifying sign up. Take a look at this math below.
Cookie duration: 60 days
Pros
It's no expensive for your referral and that guarantee more sales
Awesome promotional materials and support
10. Money robot affiliate program
Money robot is a leading SEO software that helps all categories of business to gain more search engine visibility. Even you yourself need (money robot)
Commission: Earn $100 per sales and if join through my (links here), you will get $25, for just sign up.
How do you get the $25 dollars?
➡ Click here, then when the site is open, click on the Affiliate tab on top menu, click here to sign up and fill the form and you're done.
You will receive $25 instantly.
Cookie duration: Unknown
Pros
A lot of educational materials and tips
Cons
People are afraid of using SEO software these days because they don't want to get banned from search engines, which would make it a little bit hard to make sales.
11. Payoneer affiliate program
Payoneer is one of the leading online payment solutions, fast, secure and low-cost Services, that help webmasters receive and send money without hassle.
Promoting Payoneer is the best thing you should do because your audience would definitely love it.
How to join the Payoneer affiliate program?
Step 1. Join Payoneer for free here
Step 2. Login to your account and click refer-a-friend, and start your awesome earning. You can earn $1000 per day.
12. Convertkits affiliate program
Convertkits is an easy to use email marketing software, you will never relate to promoting convertkits.
Commission: Earn 30% recurring commission
Cookie duration: 60 days
Pros
It's a product that loves by multiple email marketers, webmasters and entrepreneurs which makes it easy to make sales.
Cons
Lack of Commission payment method options ( only Paypal)
13. Link management affiliate program
Link management is an SEO company where your potential referrals can purchase links as low as $0.15 to boost their SEO.
All of their links are quality and they place links manually to avoid search engines mayhem.
Commission: Earn $50 if your referral spends $100 with them. The more your referral spend with them the more commission you will get.
Cookie duration: 180 days
Adsy is a content distribution platform or a place to create and distribute rock star content.
It's very easy to make money with this platform because it is very difficult to get content to publish on other authority websites these days.
Adsy helps marketers do that.
They're two ways to earn with adsy affiliate programs:
So, if one way can't get you enough income other will definitely do.
Commission: Earn 10% commission on dollars your referral spends with adsy.
Cookie duration: 180 days
Pros
It's a great way to earn commission either through publishers or marketers' programs.
Magenet is a monetization platform with an anti-fraud system that let's website owners earn ~$50+ per day by placing contextual ads on their sites.
And you know that every website owner is looking for more earning opportunities, so let them know about magenet is important.
If they join you earn.
Commission: Earn 10% commission from every dollar your referral spends with mageNet
Cookie duration: 180 days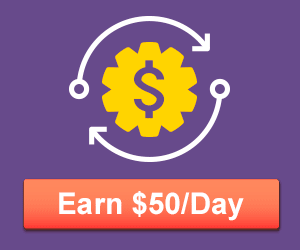 16. GainRock affiliate programs
GainRock is an affiliate marketing network or platform that hosts linkmanagement, magenet, and adsy affiliate programs.
By joining GainRock affiliate marketing programs, you're automatically qualified to promote the companies listed above.
Commission: Earn 30% commission from your referral earning.
Cookie duration: 180 days
Pros
It's an easy way to make money online from this affiliate network.
Up to three products or promote
Cons
Commission payout method is only Paypal which many countries are restricted from PayPal.

17. Constant contact Affiliate program
By joining constant content email marketing software affiliate program, you will earn per qualify leads and sales.
Commission: Earn $5 for all qualified leads, free trial without any credit card require and plus $105 when referrals pay for a constant contact pro account.
Cookie duration: 60 days
Pros
Earn either from PPL or PPA programs
Incredible support and a superb dedicated affiliate manager.
18. Studiopress affiliate program
Studiopress is part of the wp engine, inc. Their affiliate programs are managed by shareasale.
If you have an audience that needs a premium WordPress theme and plugin then studiopress affiliate program is for you.
Commission: Earn 33% commission on every sale you drive.
Cookie duration:
Pros
It's a leading and a well-known product, so promoting it to your audience simply means you're adding value to your audience and blog.
Cons
It's very difficult for beginners to get approved into this program because shareasale only approved a website with high traffic.
19. Forextime affiliate programs
Forextime is a forex trading broker, trust by thousands of forex traders worldwide.
By joining the forex time affiliate program, you're expected to refer traders to them.
By doing that, you earn. Simple right?
Commission: Earn $50 max CPA level and 10% dynamic rebate
Pros: It has multiple ways of earning
They're well known and reliable brokers so recommending it is truly value-added to your audience.
20. Healthtrader affiliate network
Healthtrader is an affiliate network with health-related offers. If you have a health-related audience or website then healthtrader is a great affiliate network you can join.
Conclusion
Affiliate marketing is truly the best way to earn money online without owning a single product of your own.
I have been doing it for years now and I love doing it. NOTE: It's free to join all of the best affiliate programs listed above.
Join as many as you can join to monetize your traffics or influence and I wish you the best of luck with this best affiliate program.
Wait a minute.
Are you with any of these programs? If so, please do share your experience with us below and help us share this article.
Thanks for passing by.