Last Updated on 31/12/2019 by Ochoche David
Do you really want to know how to start a profitable blog?, Do you want to start a blog that would grow beyond a hobby blog?
Do you want to make money blogging? Or are you dreaming of making money online?
Do you want to own a blog that would generate at least 4-7 figures per month?
But don't know how, don't bother anymore. you have come to the last bus-stop, I will teach you how to start a profitable blog right here, yours is to take action before leaving this page.
If your answer to all those questions above is YES then I got you covered.
Blogging is one of the coolest ways of making money online. To blog is just simply means to share your passion, expertise, and experience with the people who in need of them.
In doing that, you can make thousands of dollars every month.
Things you need to start a blog
Computer or smartphone and Internet connection
Money for hosting and time to design your website
Book and pen
If you have those materials I listed above and read this how to start a profitable blog them you're good to go.
Let dive into How to start a profitable blog. Follow these steps below to get yourself out there.
How to start a profitable blog step by steps, part 1
Choose your favorite Niche/(s)
Before starting a blog, what to do first is to choose a niche/topic.
What is a niche?
A niche simply means the topic which you are going to stretch out for people. In the blogging world, niche is the most essential things to consider
Because it determines the prosperity of your business. If it chooses carefully your business would be boom like fire and if it picks reckless your business will be craw.
Niche is what you want to blog about. eg. Fashion, sports, money etc.
How to choose a perfect niche
1. Passion: This simply means what you love doing. What do you love doing that you want others to know about? When you have passion for anything you can make money from that.
Passion plays a big role in the blogging world because the more you love what you're doing the more focus and strength you will put in.
As you have identified a topic now, you have to do some research which leads us to another step.
2. Research: when you have something in mind to blog about, you have to research it to know whether people are in need of that topic.
Where to do the research?.
1. Search engine: If you type the topic in the search engine like Google, you will find out how many related questions about the topic.
Assuming you type "how to make money online" on Google without press enter, by the downside of the search section you will see the different types of questions concerning the topic.
That shows you, your faith in how your business may be.
2. Social media: This is the easiest way to make your perfect research. You can do this in two ways;
Assuming you're using Facebook to do your search.
Step A
Use the search button to search for your topic to see how people posted or comment about it.
Step B
Ask in group or charts directly with your friends to discuss about the topic to know how they are willing to learn your topic.
Step C
Create a Facebook poll and allow your friends to vote.
3. Friends: Ask your real friends to know how they feel about your topic/niche.
There are many ways you can ask them to get a genuine answer from them.
Eg. Mary, do you like to make money online? If someone shows you how to make money online, can you do it? etc. You know the kind of questions that may work for you.
The essence of searching is to grant you insight into your niche and the right keywords to use in creating your content.
How to start a profitable blog part 2
Decide your blog Name:
As you have your niche, you have to decide your blog name.
A name that your target audience will use to visit your blog.
Don't be panic about choosing a name, you can even use your own personal name or any name you know that it's easy for your targeted audiences not you.
Choose a platform:
What next now is to choose a platform that you will use to manage your blog.
There are many platforms out there but I highly recommend you WORDPRESS because if you want to make the best out of your blog then WordPress is the best for you.
It is easy to use and with a lot of plugins that would make your blog look palatable.
Sign up for a Hosting:
Hosting simply means a place you will host your site on. They're like landowner,
he/she own his/her land and you want to build and you don't have a land so you buy from the owner before start building your mansion.
There is a lot of Hosting company out there but some of them are not user-friendly neither reliable.
I encourage you to start your blog with a strong Hosting company and it should be WordPress self Hosting in other for you to have access to the necessary tools you need.
So I strongly recommend you Hostgator or liquid web hosting, each of them has high technology, reliable and cheap price.
Hostgator has a cheap plan for $2.55 per month. Thy are strong Hosting company which many entrepreneurs like you are happy with them.
You can Sign up here to start your blog right away and if you're not on a tiny budget then liquid web hosting is the best for you because of their website load much faster than any other one out there.
Join them here and thank me later because I know them, you will definitely satisfied with their service.
Both of them are 1 click to WordPress and with them, whether you're a tech person or not you are fine to get started.
Because no technical knowledge required to set up your website.
How to start a profitable blog part 3
Select your desired theme:
There are so many WordPress theme out there.
Immediately you click theme at the left side of your wordpress dashboard, under appearance, it will show you plenty of themes to select from.
Theme is the layout of your blog, how your blog will go to look like.
If you want to use a Free theme, then twenty seventeen is the best for you and you want to use a premium theme which you will pay, you can check mythemeshop or accesspresstheme.
The difference between paid theme and free there is that the free one may change at any time without notice.
While the paid theme is reliable, load faster and with full support from the theme provider.
Now is to design your site, you know what you need and how you want your site to look like but let it be user-friendly.
If you have any questions or problems on how to design your website/blog let me know in the comment box.
Hey, friends, we have come to another important part of blogging process.
If you know how to start a blog that's not all.
You need to master how to create important content for your targeted audience.
Now that you have designed your blog, what you need now is to start writing posts which is the main heart of your blog.
Your post should be helpful, clear and straight forward. Furthermore, your post should be in simple words, tense and easy to understand by your readers.
When your reader is reading your blog and be looking for a dictionary, that is bad.
Before starting to write any post, outline it before start writing it, that makes your content to be well flow and easy for you to write.
For instance now I want to write a post about how to write a blog post. I will stretch it out This way;
Headline: How to write a perfect blog post that attracts tons of readers.
Introduction
Main content
Summary/conclusion
Call to action
Appreciation
Your post should contain attractive images, not just any image, rather image that speak more than words or funny.
If it funny most of your readers would be laughing and eager to share your post.
Your image should be optimized, you can use a website like canva or pickmonky to create your professional images.
Your post should be an average of 1000-2000 words even 4000 is cool because that would help you with Google ranking.
Google believes in thorough content because they want to show their customers the best contents.
Again Google also values how long visitors last on your blog, which proves to them that your blog is one of the best out there.
Your post should contain image or infographic when necessary.
Connect your social media accounts to your blog:
To do this is very easy if you're WordPress user. Immediately you open the WordPress app, you will see the sharing option,
click on it and connect your accounts right away.
It is very important because immediately you published any post, WordPress would automatically share it to those accounts you have connected.
Work on your traffics:
Traffic is the most important thing in the blogging world.
When there is a lot of traffics on the road, those hawkers would make a lot of money that day. The same thing about blogging.
Hawkers will pray for more traffic on the road and that is how you will also pray for traffics to your blog as well.
How to start a profitable blog part 4
How to monetize your blog?
As the title implies How to start a profitable blog, if you don't monetize your blog, it is not profitable until you do.
You have your blog live online with some visitors are coming to read your content now, what remains now is to start making money from your blog.
You can monetize your blog in so many ways. Here are the easiest way.
Adsense ( Google Adsense, adthrive, wordad, media.net etc).
Sell your own ads pace
Sell digital products eg ebooks, video, courses, music webinar, podcast, etc.
Sell physical products.
Let's start to discuss each of the opportunity listed above one by one.
Google Adsense:
I would like to explain Google Adsense because it is very easy to use, user-friendly and it's the easiest way to monetize a blog.
There are many other Google Adsense alternative out there but I highly recommend you Google Adsense.
What is Google Adsense?
It is a program in which Google uses to match you with a brand to place their ad on your blog and they reward you for placing their ad on your blog.
Google Adsense is a pay per click (PPC) program, which means the more click you get the more money you will make.
But the downside of it is that Google rejects any site under construction and it heard for newbie to be accepted into the program.
The program is free to join, head to Google Adsense, sign up and Google Adsense team will give you an instruction on what to do next.
Sell your own ad spaces:
This is another form of Adsense. You can sell space on your website directly to advertisers if don't want middleman.
In the case of Google Adsense, they react as a middleman. T
hey match you with advertisers and they pay you 65-70% of what the advertisers pay to them.
In the case of direct Adsense, you have to walk directly to the advertisers or use one way or the other to convince them to place an ad on your blog.
The merits of this are that the advertiser pay you the whole money.
How to get advertisers to place their ad on your blog:
Write a killer advertise with us page
Email them directly (write a killer massage)
Walk to them directly to discuss with them how your blog can help them to boost or grow their business.
Remember don't forget to showcase your traffics stats to them as a tool of persuasion.
Good luck with This method of monetizing your blog. I wish you success all the way.
How I earned $1k doing nothing?
Currently, website monetization is all rage. Still, MageNet makes the entire process as easy as ABC. All you need to do is just add the websites you want to monetize, pass the validation, and set your prices. That's it. No need to look for advertisers – MageNet finds them for you! No need to negotiate with advertisers – MageNet does that and selects the most profitable deals for you! The only thing now you do is get money. And you also get a HUGE bonus if your website's quality is high.
Read the detail here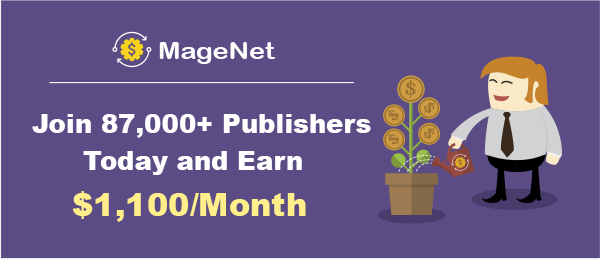 Hey,
Do you already monetize your
website and are fully satisfied with the income? Or, on the contrary, do not
yet use a single opportunity to get profit? Regardless of your answer, you
should definitely give MageNet.com a try, and start earning
today!

It is the easiest and the
fastest way to monetize a website. All you need to do is to
sign up and install the plugin. Now you can decide how many ads you want to place and how much to get.
What Benefits Do I Get From MageNet?
If you're looking for ways to make a legitimate extra-income, monetizing your websites with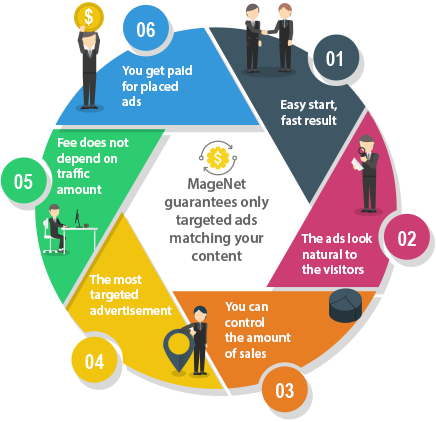 MageNet can provide you with the perfect platform to place contextual ads on your own terms. You will get:


Access to our wide-scale network of advertisers 



Automatically installed ads on selected web pages


Regular payments for placed ads via PayPal

The most targeted advertisement that looks natural to visitors

Full control of web pages
that are available for advertising

You can set the fee that will not depend on the traffic amount

You can view detailed statistics of your ads and pages where it is shown

MageNet Plugin can be combined with other monetization systems to maximize income
​Affiliate marketing:
Affiliate marketing is the process of recommending other's products and services to your readers, if they make a purchase, you get a commission(%).
This is a huge way to make money online or from your blog easily.
Many blog owners (marketer) are making 6 figures from affiliate marketing.
The good thing about this is that you don't need to have products.
Your own is to refer people to other's products if they make a purchase, you will get a cut of that amount.
I will like to encourage you more on this because if you aren't involving yourself with the right program, you can't make a decent amount.
If others are making 4-7 figures, you would be making 1-3 figures which is very poor.
Before joining any affiliate program, firstly, consider the commission rate and payment method of that program.
This is very important because the same effort you will use to promote the low program, that you will need to promote a high ticket program.
I did a mistake with the payment method and I'm not able to collect my money. So take this seriously. Here are 20 best affiliate programs to join and make a big commission.
Sell digital products:
Digital products are downloadable and soft copy products on the internet. Eg. Ebooks, video, music, webinar, podcast, etc.
You create them and promote them to the wilder audience through your blog.
Many bloggers are making million-dollar every month for doing this.
You too can, but remember you have to be creative in every product, you want to create.
Because people like new things always.
Sell your physical products:
Do you own a store or any retails outlets?, You can embed it to your blog site and market to the whole world.
You can use an e-commerce platform like woo-commerce or Shopify. To create your online store and embed it to your blog.
Many businesses these days are into blogging, why because it drives a lot of traffic to their business and in the business world, the more traffics you get more opportunities to make sales you have.
I hope by now, how to start a profitable blog isn't a problem for you anymore.
But if you still find how to start a profitable blog difficult, I would be glad to help you out, head to my contact form here
How to make money from a blog has no limit. It totally depends on your creativity.
Blog is a real business with freedom which means you are in total control, no one would say, you haven't done this or that.
You can read this article on smart bloggers to get more inspiration for blogging.
In case you may want to read to the end before starting your blog, you can Start here now, as far as you start from here am ready to help you at any level that you are stuck with.
So remember that you are not alone. See your blog online soon. Now you know how to start a profitable blog right?
Note: Blogging may take time before making you a decent amount of money.
I love💜 to hear from you, for any questions, suggestions, or contributions comment below👇👇.
Hey friends, I'm up for a favor, please don't forget to help me share this page in all your social media handle. Thanks for sharing.
Thanks for reading. Talk to you again soon✍👂.